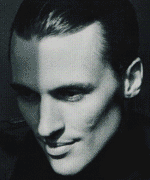 Birthdate


Country of origin
United States

Web site
www.ericallaman.com/Default.htm

Biography
Eric finished 2003 with five new movies. His scores featured an ambient/electronic score to David Oas' dark thriller, "Raspberry Heaven". A techno-rave score to C. Jay Cox's "Latter Days" which recently opened in NYC and LA. In addition, Eric wrote three songs for this theatrical with writer/director, C. Jay Cox. A disco/techno score to the Disney hit movie "Beautiful Girl". A percussive break beat score as well as three songs for the ABC romantic comedy, "This Time Around". And finally, Eric composed a dark orchestral action score for the disaster film, "Killer Flood".

Earlier in the year Eric recorded in Moscow, Russia for the NBC special, "The Three Stooges 75th Anniversary Special". For this Eric scored the special with several comical orchestral pieces and also re-arranged and recorded the famous themes to the film shorts of the 1930s. At Mosfilm, Eric had already recorded his gothic horror score to "Elvira's Haunted Hills". The score was comprised of 75 musicians and was recorded over ten days.

Eric also has three animated series that are currently running. These series are PBS' "Liberty's Kids", Fox's "Sherlock Holmes in the 22nd Century" and Nickelodeon's "Super Duper Sumos".

In short, Eric has scored 22 films and over 400 episodes of television to his credit. Eric's film credits include; Raspberry Heaven, Beautiful Girl, Latter Days, This Time Around, One Kill, Legend, Elvira's Haunted Hills, Half A Dozen Babies, Killer Flood, Our Friend Martin, Hits, True Heart, Miracle Beach, and Midnight Blue amongst others. Due to his songwriting background, Eric is often hired to write songs for films he scores.

His television credits include but are not limited to; Mike Hammer Private Eye, High Tide, The Three Stooges - 75th Anniversary Special, African Skies, Madison, and Boogie's Diner. Besides live action television, Eric has scored several animated TV shows including; Liberty's Kids, Sherlock Holmes in the 22nd Century, Super Duper Sumos, Stunt Dawgs, Pro Stars, and Mutant League. As a father, he is particularly proud of all the music he has composed and produced for children's projects in film, television and the recording industry. Eric was born in Springfield, Missouri. He was the first of two children born to George and Vesla Allaman and grew up in the Midwest for the first twelve years of his life. Eric began studying classical piano when he was seven years old along with his younger brother, Christen. Eric continued to study the piano as well as the guitar throughout the family's journeys from Missouri to Illinois to Wisconsin to Washington and finally California. Frequently, the family spent the summers in his mother's native Norway with his grandparents and uncle. Spending time in the land of Ibsen, Grieg and Munch affected Eric and he began to focus his artistic pursuits. By the time Eric graduated from Dana Hills High School in Dana Point, California he had decided to create a life in music.

As a music major at UCLA, Eric appeared in plays and college television shows and he began to score student films in the Motion Picture division. Eric's education in music expanded to include the sitar and tabla as well as a double major including theater. Concurrently, Eric performed with his rock band "Witness" in the clubs of Los Angeles. Eric graduated from the University of California at Los Angeles with a Bachelors Degree in Music and Theater.

Following graduation, Eric realized his dream and moved to Europe to pursue his interests in instrumental music in Paris. At this point in his career, Eric was fond of composing piano solos in a neo-romantic style akin to Chopin Nocturnes. In Paris, Eric was introduced to computers, sequencers, and synthesizers. The impact of this new technology had a profound impact on Eric's music, however, Paris offered little opportunity for a young composer and shortly before the end of his first year in Europe, Eric was forced to leave Paris in order to survive financially.

In West Berlin, Eric found work playing the piano in cabarets, restaurants and the big hotels. He began recording his instrumental music with a small record label and began to work with Tangerine Dream. After scoring Ridley Scott's "Legend" with Tangerine Dream, Eric landed the gig of re-scoring Sergei Eisenstein's classic epic, "Battleship Potemkin". The screening was a featured event at the Berlin Film Festival and it's success, ironically, led to offers back in Los Angeles.

Eric has remained faithful to his passion by working in theater. Upon his return from Europe, Eric penned two operas, two musical extravaganzas, and the incidental music to several plays. His second opera, "Battleship Potemkin" (librettist Jeffrey Couchman) has been performed in New York City, Hartford, Connecticut, New Harmony, Indiana and Nashville, Tennessee. Eric's first opera, "Voice from the Cellar" (librettist Robert White) was produced and performed at the Los Angeles Theater Center. Eric received Dramalogue awards for his scores to the hit plays, "The Geography of Luck" and "Stendhal". He has released CDs featuring his song writing, film scores, solo piano compositions, children's music and Native American music. He has been hired as a producer for MCA, Varese Sarabande, and Centaur Records.