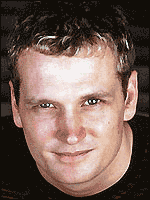 Birthdate
July 20, 1964

Country of origin
United States

Web site
www.johnottman.com/

Biography
From an early age in San Jose, California, John Ottman began writing and recording radio plays on cassette tapes with his neighborhood friends as extra cast members. Film music would always play a dominating role in the stories, as many of the stories were often written to accommodate his favorite scores.

By the fourth grade, John was playing the clarinet and continued doing so throughout high school. But his real concentration turned from his audio productions to film. He turned his parents garage into a movie studio, where multiple sets were interchangeable to accommodate a production - invariably some sort of science fiction film. By high school, his films evolved to hour- long productions complete with large casts and big sets and lavish scores edited together from his favorite soundtracks. Once again, much of his favorite film music often inspired the scenes he shot.

His efforts gained him local attention on television and the paper (San Jose Mercury), with special attention given to a thriller he shot, this time in his parents home; a spaceship wasn't needed. Plenty of dry ice was the order, however.

USC film school became his next stop, where, after already having been a veteran of numerous Super-8 films, he excelled. Ottman was the only undergraduate to receive an 'A' in directing, and received accolades for how well he edited his performances in post production. It was in this directing course that a graduate filmmaker recognized John's talent and asked him to re-edit his thesis film. John modified the story from raw footage and also designed the film's extensive sound. The film, "Summer Rain", ended up winning the Student Academy Award. On the film, a production assistant named Bryan Singer noticed what John had done, and be-friended him.

Ottman was suddenly editing films and doing sound design, but at the same time, building a make-shift music studio in his house with used equipment. Frustrated with incompetent film scores on his friends' student films, Ottman re-scored them as practice, and as an experiment to see if he score films. Realizing he had found his true passion, (aside from directing which he chose to put off for a while), he began scoring industrials and short films.

Bryan Singer, only knowing John's editing, asked him to edit a short film starring Ethan Hawke - a childhood friend of Singer's. John ended up co-directing the film (Lion's Den), as well as editing and doing the sound design.

On Singer's first feature, Public Access, John edited the picture in three months while simultaneously holding down a full-time job. Ottman's effective sequences and editorial montages became the highlight of the picture; additionally in the eleventh hour, the film lost its composer, and John's time had come. After having heard John's work, and sensing his passion for scoring the film he had created in the editing room, Singer asked Ottman to write the score. Public Access received the Grand Jury Prize at the 1993 Sundance Film Festival, with the score and editing being applauded in reviews. The synthesis John created between music and image had been born.

With The Usual Suspects, and all future Singer films, John held to his promise to Bryan that, despite his scoring dreams, that he would commit to the months required to also edit Bryan's films. The Usual Suspects released Ottman from his 9-5 job, and the leery producers gave the go-ahead to have him both edit and score the extremely complicated picture. Through sound and picture montage, (edited all on film in John's living room) coupled with his musical vision, The Usual Suspects received widespread acclaim, invariably mentioning the sweeping score and the inspired editing. John was nominated by the American Cinema Editors and won the British Academy Awards for his editing, as well as a Saturn Award for his score to the film.

After Suspects, actor/director Ben Stiller hired John to score The Cable Guy, which was John's opportunity to weave in his distinctive style within a comedic context. Before The Cable Guy was even done mixing, John was already hard at work writing a huge score for the film, Snow White: A Tale of Terror with Sigourney Weaver. Apt Pupil, Singer's next project, was on the horizon, so John was declared unavailable for months as the film continued to be delayed and eventually fell through before going to another studio. But just before Apt Pupil was to finally begin filming, director John Badham hired John to write a masterful score to his film, Incognito. Incognito offered John a rare blank canvas on which to compose large sequences, some five minutes in length, with no dialog and very little sound design. A film about the mastery of art forgery, John brought film music to a refreshing high in many of the long sequences, blending his neo-classic musical style with the baroque and classical styles of the past.

As he finished recording his score for Incognito with the Seattle Symphony Orchestra, Apt Pupil was already filming. John dove into Apt late as film was piling up to the ceiling and was faced with a very difficult story to keep interesting editorially. With his rich and dark psychological score, he created a provocative world that is a musical and visual journey through the dark minds of the film's two characters, played by Ian McKellen and Brad Renfro.

It was with Apt Pupil that John forged a relationship with the people of Phoenix Pictures who would remember his contributions to the film. After scoring Lake Placid for the same studio, Phoenix approached John to direct Urban Legends: The Final Cut. Having planned to write his dream score for X-Men for long-time collaborator Bryan Singer, Ottman was faced with a hard desicion. But X-Men was scheduled for a December 2000 release and it was too early to hold John to the production which was phasing in and out of the green light/red light status. When John signed to UL2, X-Men green-lit and later pushed their release to July 2000. The collision of schedules pre-empted his scoring the film.

Urban Legends: Final Cut marks yet another record-setting feat by Ottman. This time he accomplished triple duties, directing, editing and also scoring a studio film. He recorded the score with the Munich Symphony Orchestra, his first time recording over-seas.