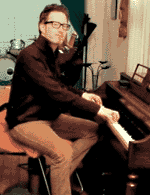 Birthdate


Country of origin


Web site
www.scottbomar.com/pages/1/index.htm

Biography
Scott Bomar has been part of the Memphis music community over half of his life, working behind the scenes, as well as on stage. He first picked up the bass guitar in his early teens, but it wasn't until former Stax guitarist Steve Cropper spoke to his 10th grade class that Scott realized he wanted to be a musician. Within the year, Scott was playing at area clubs and soon formed the instrumental group Impala. With a sound that harkened back to early 60's R&B, Impala toured nationally and released five full-length albums. Impala took their Memphis roots seriously, recording at Sam Phillips' Studio with Roland Janes and featured Memphis Horns trumpeter Wayne Jackson on their last recording. Impala's version of the Henry Mancini theme, "Experiment in Terror" is featured in the George Clooney film, Confessions of a Dangerous Mind.

As a bassist, Scott has performed with many artists both locally and internationally, including Stax legends Rufus Thomas, Sir Mack Rice, Carla Thomas, William Bell, Sun Records pioneer Rosco Gordon and jazz guitar great and former Ray Charles sideman, Calvin Newborn. This April will be Scott's 4th year as a bandleader for New Orleans' Ponderosa Stomp, a three-day festival hailed as "the real deal" by Rock & Roll Hall of Fame president Terry Stewart. This spring, Bomar will be performing at London's Barbican Center with Mabel John and Booker T & the MG's as part of the "It Came >From Memphis" series.

In addition to his work as a musician, Scott has produced, written and engineered recording sessions for more than a dozen albums, feature films and TV. In 2003 Bomar was musical director for a segment of Martin Scorsese's PBS series, "The Blues." Scott has also served as an instructor for the after-school and summer camp programs at the Stax Music Academy, a program for at-risk youth at the Stax Museum of American Soul Music.

In the late '90s, Scott formed the Bo-Keys, a soul-infused instrumental group featuring veterans from Stax Records, including Isaac Hayes' sidemen Charles "Skip" Pitts and Willie Hall, who also backed the Blues Brothers in concert and on film. The Bo-Keys' full-length debut, "The Royal Sessions", recorded at Willie Mitchell's Royal Studio was released to international critical acclaim in 2004. Famed producer Mitchell loved the sound of "The Royal Sessions" so much, he asked Scott to work as assistant engineer on Al Green's 2003 album, "I Can't Stop". Scott recently teamed up again with Willie Mitchell on the latest Al Green recording, "Everything's OK", released by Blue Note Records, March 2005.

Most recently, Scott composed the score for Hustle & Flow, which won the Dramatic Audience Award at the 2005 Sundance Film Festival and will be released by Paramount Pictures in July. Always loyal to his hometown, Scott used the Bo-Keys and several other Memphis music legends, including Marvell Thomas and Ben Cauley, of the original Bar-Kays, to record the score for Hustle & Flow at Ardent Studios.

When not composing, producing or playing, Scott indulges his other passion - acquiring vintage microphones, instruments and analog recording equipment to use in his newest venture, Electraphonic Recording, his Memphis studio.

Scott is currently working on a follow-up to "The Royal Sessions" and in pre-production on various film and TV projects, including Black Snake Moan starring Samuel L. Jackson. Scott is represented by First Artists Management.