John Bergin's Wednesday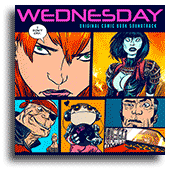 27-Aug-2015 -

Lakeshore Records will release the Wednesday companion soundtrack and score albums digitally on September 18, 2015. Both albums feature contributions from various bands and guest performers. The soundtrack album contains original music from Daniel Davies (Year Long Disaster) and Geno Lenardo (Filter, Device), including the lead single 'K So by Daniel Davies released earlier this year. WEDNESDAY is written and illustrated by John Bergin (FROM INSIDE).

"I love the concept of comic book soundtracks. Every comic book I've written or illustrated also included a suggested soundtrack in the index," said Bergin. "I can even say I may be the first person to score a comic! In the early 1990's I wrote and recorded a score for The Crow graphic novel."


John Bergin's life has been spent creating art as both a writer/illustrator of comics and a musician, most notably in the band Trust Obey. After writing/illustrating the comic ASHES, Bergin went to Tundra (the publishing company founded by Kevin Eastman, creator of Teenage Mutant Ninja Turtles) who published Bergin's graphic novel FROM INSIDE in 1994. At the same time, Trust Obey was signed to Trent Reznor's Nothing Records. Towing both artistic lines, Bergin created numerous graphic novels, while simultaneously working on musical projects including a WARHAMMER 40K score, Tertium Non Data (featuring Pam Bricker of Thievery Corp), Lolo, and Blackmouth (with Jarboe of Swans).

In 2008 Bergin adapted FROM INSIDE to screen. The animated feature played the festival circuit from 2008-2010 – earning numerous awards including Best Animated Film at SITGES. In 2014 From Inside was released with an original score by legendary electronic music pioneer, Gary Numan.

WEDNESDAY marks a stylistic change for Bergin, who is usually associated with dark and gloomy work. The story is told from the perspective of a sixteen-year-old girl living in a post-apocalyptic world. The book features larger-than-life characters, vibrant colors, pulse-pounding action, and humor. Bergin has coined the phrase "Pop-apocalypse" to describe the comic.

Bergin turned to Daniel Davies and Geno Lenardo to compose the soundtrack for Wednesday. "Daniel and Geno are incredibly versatile musicians," said Bergin. "Their work that you may be familiar with sounds heavy and dark. The I, Frankenstein soundtrack, John Carpenter's new album, Filter, and Device for example… but I heard a playfulness and sensitivity in their music that I thought would be a great fit for Wednesday." A musician himself, Bergin also contributed to the WEDNESDAY score album.

Stompbox13 presents WEDNESDAY Book 1, currently available wherever comics are sold. WEDNESDAY (Original Comic Book Soundtrack) and the WEDNESDAY (Original Comic Book Score) from Lakeshore Records will be available digitally on September 18, 2015.