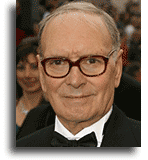 Quartet Records presents Ennio Morricone's new score...
15-Oct-2015 -

Quartet Records is very proud to present En Mai Fais Ce Qu'il Te Plait, the first new score by Maestro Ennio Morricone since Giussepe Tornatore's La Megliore Offerta (The Best Offer) (2013). Returning to French cinema after an absence of 35 years, Morricone has collaborated with director Christian Carrion (Une hirondelle a fait le printemps, Joyeux Noel) on an emotional film about the invasion of France by German troops in 1940, and the people of a small town fleeing from the barbaric Nazis.


The story starts in may 1940 when the German troops enter France. Frightened by the progress of the enemy, the people of a small village of Pas-de-Calais decide on the recommendations of the prefecture, to give up everything to go on the road, fleeing to the coast. Among them, there is Paul, the village mayor. He led the group, seeks to maintain a minimum of order and republican spirit in this nomadic life. Mado, his wife, plays music trying to find the fragrance of those that took place in his coffee in the village. Suzanne, a young teacher, goes to meet to choose the least congested route. And she especially supports a small German boy, Max, 8 years old, whose father Hans was arrested after the declaration of war. During the Arras attack, residents are released from prison and abandoned in the deserted city. Hans managed to flee the city, accompanied by a Scottish officer, Percy, whose entire unit died under German bullets. These two will travel together. Hans seeking to recover his son who fled the village, Percy hoping to reach the sea, and find a boat back to England.
Ennio Morricone has written a moving, beautiful, deeply melancholic and nostalgic symphonic poem. The music takes us back to the sound of his best epic scores, such as A Time of Destiny, Casualties of War, Il Deserto Dei Tartari or Baaria. Played by the Roma Sinfonietta under the baton of the composer, this is certainly a great milestone and one of the most highly anticipated works of the year.
For more info and ordering, visit Quartet Records.