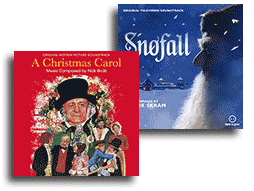 New from Quartet Records
1-Dec-2017 -
Quartet Records presents a holiday treat: the premiere CD release of a long-awaited Christmas classic! We are all familiar with Charles Dickens' A Christmas Carol—the tale of three ghosts who teach a miserly businessman the true meaning of Christmas. The 1984 version (which debuted on television in the US market) stars George C. Scott as Scrooge, along with David Warner, Susannah York, Frank Finlay and Angela Pleasence. The film was directed by Clive Donner, who edited the 1951 adaptation of the Christmas classic.
The wonderful symphonic score was composed by Nick Bicât (Stealing Heaven, Wetherby, The Scarlet Pimpernel, The Reflecting Skin)—twice nominated for a BAFTA Award—who provides yuletide joy, adaptations of classic (but not clichéd) Christmas carols as well as an original song for the end credits. The score itself is organized around the three ghosts, all of whom have their own sounds: the fun gavotte of the Ghost of Christmas Past, the fanfare for the Ghost of Christmas Present and the cold atmosphere of the Ghost of Christmas Yet to Come. The album features the premiere release of the fan-favorite end-credits song: "God Bless Us Every One."
Orchestrated and conducted by Tony Britten, this complete score release has been produced by Nick Bicât, mastered by Marc Blanes, and comes with a richly illustrated booklet with notes by Gergely Hubai discussing the film, the composer and the score. The lyrics to all the featured songs are included for you to sing along!
Quartet Records and NRK Television present another holiday treat!—a 2-CD set featuring composer Henrik Skram's original score to the 2016 acclaimed Norwegian TV series Snøfall (Snowfall), a fantasy Christmas tale about courage, friendship and the search for belonging.
The story is about Selma, who, having lost her parents in an accident fi ve years ago, wishes for nothing more than a family she can belong to. The letter she writes to Santa Claus turns into a paper bird which fl ies to Snøfall—a magical village full of wondrous people. On her journey through this enchanting Christmas fairy tale, Selma will fi gure out who she is and where she belongs—although it is far from what she would have ever expected. Talented young Norwegian composer Henrik Skram (90 Minutes, Ballet Boys, Tordenskjold & Kold) provides a warm, charming, massive orchestral tour-de-force performed by the Norwegian Radio Orchestra under the baton of Matt Dunkley, in a score full of fantasy, tender melodies and impeccably tasteful writing. Fans of John Williams, James Horner or Bruce Broughton will not be disappointed!
Henrik Skram won his second Golden Screen Award for his work on this series score.
For more info and ordering, visit Quartet Records.