CAM Original Soundtracks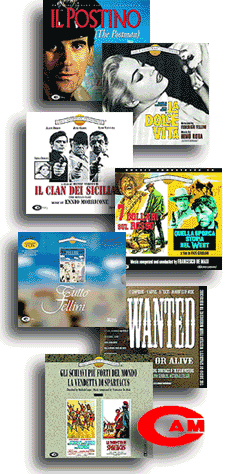 31-May-2001 - CINEMA IS ALSO MUSIC. LISTEN TO CINEMA.

Tradition and innovation are the characteristics which distinguish C.A.M. in the vast panorama of film music.

C.A.M.-(Creazioni Artistiche Musicali), independent music publisher and record label based in Rome, has realized over 2700 soundtracks of Italian, French, Spanish and American films in its 40 years of activity, and has worked with over 500 composers internationally.

Renewing the prestige of this long tradition are the new soundtrack productions entrusted to composers with consolidated positions such as Luis Bacalov, Manuel De Sica, Pino Donaggio, Gianni Ferrio, Ennio Morricone, Nicola Piovani, Giovanni Tommaso, Armando Trovaioli, and to young emerging composers like Paolo Buonvino, Pivio & Aldo De Scalzi, Carlo Crivelli, Antonio Di Pofi, Battista Lena, Dario Lucantoni, Daniele Sepe, Giuliano Taviani, Giovanni Venosta and many others.

The long list of collaborators today comprehends numerous foreign composers such as Angelo Badalamenti, Claude Bolling, Bill Conti, Georges Delerue, Joe Delia, Antonio Victorino D'Almeida, Antoine Duhamel, Lee Holdridge, Evan Lurie, Ernie Mannix, Charles Papasoff, Jean-Claude Petit, Philippe Sarde, Jean-Marie Sénia, Ralph Towner.

C.A.M.'s soundtrack productions are easily accessible through its commerce-enabled website CamOriginalSoundtracks which allows its visitors to listen to RealAudio®, browse through, and purchase its 220+ CD soundtracks—ideal for film music aficionados. In addition to its online availability, the C.A.M. label is distributed in most countries and has a steady relationship with Sony Music Entertainment (Italy) for the exclusive domestic distribution of C.A.M.'s CD release.

The Compact Discs produced by C.A.M. contain the original soundtracks from both new films productions and from its immense back catalog repertoire, as well as unique cover versions (of film music) by world renown artists. The CD booklets are complete with all news: cast and credits, plot and biographies as well as color photos and translation of the Italian into English, French and Spanish. With regards to the audio quality, 90% of the C.A.M. CD's are mastered in Dolby Surround®, and re-issues are re-mastered using the NO-NOISE® system, thus providing an impeccable listening.

Furthermore, C.A.M. has increased its activities with new initiatives, among which we mention the award ceremony PREMIO ROTA/CAM®: C.A.M. wished to remember the personage and works of the great composer Nino Rota with the PREMIO ROTA/CAM® award ceremony dedicated in his name; since 1999 it has been one of the awards given during the Collateral Awards section at the Venice Film Festival. The objective behind this initiative is not only to award a composer of particular accomplishment in the field of film music but also to underline the importance of music's creative contribution towards a film's production and highlight the interest and value that music has outside the context of cinema.

To see the latest news visit the website at CamOriginalSoundtracks and for info, contact: info@CamOriginalSoundtracks.com.